"The "experts," it turns out, are wrong about almost everything. We have experts in science and medicine whose vaccines are so deadly, they have to resort to censorship and paid propaganda to cover up all the vaccine deaths. Anyone who tells the truth about almost anything -- gender, food science, climate, free energy, geoengineering, etc. -- is banished from having any influence in society. (Mike Adams, Natural News)
-----------------------------------------------------------
REASSURANCE? or WILFUL BLINDNESS?
NHS says "COVID-19 vaccination is safe and effective.The safety of the vaccines has been extensively reviewed by the independent MHRA. The vaccines continue to be monitored and reports of serious side effects are very rare."
-----------------------------------------------------------
Can anyone smell a Conflict of Interest?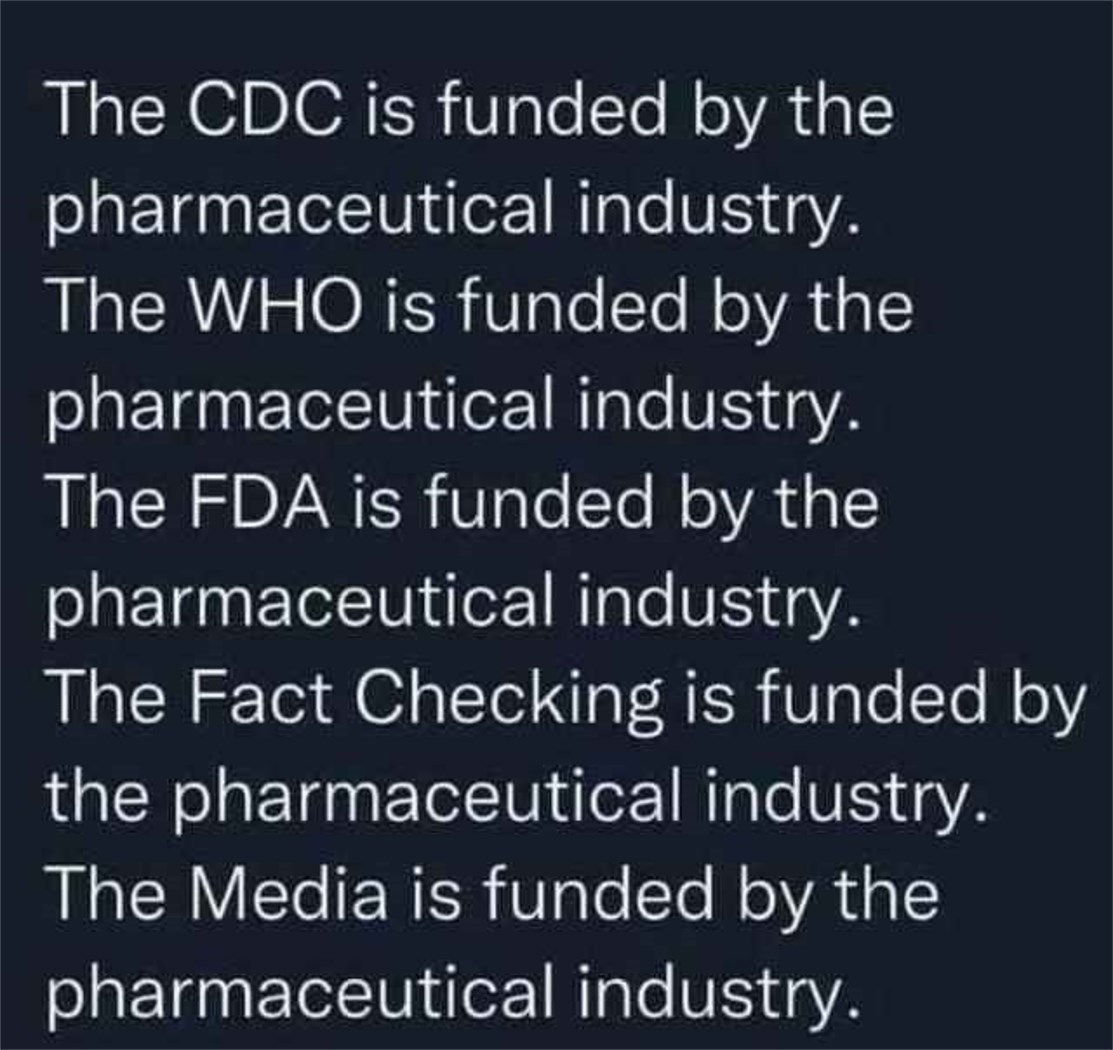 "Nothing says "trust the science" like asking for the data to be hidden for 75 years" - Dr. Anastasia Maria Loupis , commenting on Pfizer/FDA attempt to delay publication of vaccine trial data for 75 Years.
"Why don't people trust the science and scientists anymore?
Because many scientists have been caught lying and misrepresenting their data to fit the conclusions they want rather than the facts at hand. Science is often politicised to serve an agenda. This is not conspiracy theory, it is provable fact. That's not to say that all science is to be mistrusted. The point is, no science should be blindly accepted without independent examination of ALL the available facts"
( https://truthbasedmedia.com/2021/12/16/why-dont-people-trust-the-science-because-scientists-like-anthony-fauci-cant-stop-lying/ )
#MedicalTyranny #censorship #corruption#truth #lies #kissthetruth #freedom
......................................................................................................
The Underlying Problem With Vaccine 'Experts"
(from Thevaccinereaction.org, Marco Cáceres, April 09, 2022)
One of the most misused words in the English language is "expert." Experts are often cited by media outlets that are always searching for people to interview for their news stories and programs. Governments also regularly seek counsel from experts on policy decisions or ideas. Perhaps nowhere are experts as popular as in the field of health care. This has been especially true during the COVID-19 pandemic, notably when it comes to vaccination. If you happen to have an MD, MPH, PhD or RN at the end of your name and you march in lockstep with the mainstream narrative on this medical procedure, chances are you qualify as an expert on vaccines. The reality is that most health care professionals have received practically no formal education on vaccines, and certainly not a well-rounded one.
Neurosurgeon Russell Blaylock, MD. "They don't know about these other chemicals in there like formaldehyde, special proteins, special lipids that are known to be brain toxic, that are known to induce autoimmunity in the brain. They're not aware of that. They don't know that MSG is in a lot of vaccines―monosodium glutamate, a brain excitotoxin. They're not aware of what's in the vaccine they're giving."
---------------------------------------------------------------------------
(quote) "Never before in medical history has an uncontrolled clinical trial of this scale ever been undertaken with no evidence of safety whatsoever"
– the words of Doctor Roger Hodkinson MA, MB (Cambridge UK), FCAP, FRCPC.
............................................................................................................
Worst Fears Realized: Pfizer mRNA Integrates Into Your DNA
For over a year, trusted 'experts' and 'fact-checkers' have been busy reassuring the public that mRNA Vaccines could NOT change DNA. Now ground-breaking research from Sweden (Lund University) exposes the truth: Pfizer mRNA covid injections overwrite human DNA with new genetic code. So the public were deceived and the 'crazy conspiracy theorists were right all along?
In the words of leading cardiologist and epidemiologist Dr. Peter McCullough. the COVID vaccines, these findings have "enormous implications of permanent chromosomal change" that could drive a "whole new genre of chronic disease."
Liberty Counsel (USA) commented: "The implications are far-reaching and profound but also equally disconcerting for humanity. It would challenge the "safe and effective" premise upon which the entire vaccine narrative was built"
"Vaccines Are Causing LARGE NUMBERS of Deaths"
( Dr. Peter McCullough April 05, 2022)
"It's beyond any shadow of a doubt that the vaccines are causing a large number of deaths, can't put it any clearer than that. We know the vaccines have a dangerous mechanism of action – they install production of the spike protein. The spike protein is what makes the respiratory infection lethal, and it follows that in some people excessive production of the spike protein in a vulnerable person would be lethal after a vaccine. the vaccines cause myocarditis. Can it be fatal? Yes. Have there been fatal cases published? Yes… There are over 200 peer reviewed publications of myocarditis.
How about other forms of death? vaccine induced thrombosis, blood clots, stroke, hypertension, myocardial infection – a variety of other lethal syndromes. There's over 1,000 peer reviewed published on fatal and non fatal outcomes [in regard to the Covid vaccine
As Dr. McCullough has warned previously, the damages from this vaccine will linger for years to come. These people who pushed it are criminals and need to be held accountable for this evil"
IS 'BIG-PHARMA' CORRUPT?
"One of the conspiracy theories is that Big Pharma is greedy and solely motivated by profit;. Much of Big Pharma discourse focuses on the money they spend on marketing and the profit they make from over-prescribing "overpriced" and "unnecessary" drugs. Other sources describe accounts of doctors being bribed to prescribe treatments with food, drinks, gifts, and vacations" (Anastacia Cole's investigation, 2018, refers to this 2017 video from 'Thought Monkey':
CAN WE TRUST 'THE EXPERTS' ON WEARING FACE MASKS?
The so-called experts have been constantly singing the praises of wearing face masks for 'protection' . However, Viral Immunologist Dr. Byram Bridle demonstrates that this advice is DANGEROUS NONSENSE!
"... Okay, five masks. They're three-ply surgical masks, so 15 layers and seal it around the mouth...." No protection!!
....................................................................................................
Canadian Researcher, Dr. Denis Rancourt, Ph.D, reviewed all the peer-reviewed scientific literature on masks, but his study was banned and removed from Research Gate as being a 'health hazard!!
.....................................................................................................
MASKING INSANITY .... a blunt warning from Dr. Kevin Stillwagon ) ..." that mask increases your chances of developing an upper respiratory infection thirteen times more..." #NoFaceMask #NOmaskMandates #healthfreedom #medicaltyranny
(Germany) Dr. Margarite Griesz-Brisson MD, PhD is a Consultant Neurologist and Neurophysiologist with a PhD in Pharmacology, with special interest in neurotoxicology, environmental medicine, neuroregeneration and neuroplasticity.
This is what she has to say about facemasks and their effects on our brains:
"The reinhalation of our exhaled air will without a doubt create oxygen deficiency and a flooding of carbon dioxide. We know that the human brain is very sensitive to oxygen deprivation. There are nerve cells for example in the hippocampus that can't be longer than 3 minutes without oxygen – they cannot survive. While you're thinking that you have gotten used to wearing your mask and rebreathing your own exhaled air, the degenerative processes in your brain are getting amplified as your oxygen deprivation continues. I do not wear a mask, I need my brain to think. I want to have a clear head when I deal with my patients, and not be in a carbon dioxide-induced anaesthesia.
Oxygen deprivation is dangerous for every single brain. It must be the free decision of every human being whether they want to wear a mask that is absolutely ineffective to protect themselves from a virus.
For children and adolescents, masks are an absolute no-no. Children and adolescents have an extremely active and adaptive immune system and they need a constant interaction with the microbiome of the Earth. Their brain is also incredibly active, as it is has so much to learn. The child's brain, or the youth's brain, is thirsting for oxygen. To deprive a child's or an adolescent's brain from oxygen, or to restrict it in any way, is not only dangerous to their health, it is absolutely criminal. Oxygen deficiency inhibits the development of the brain, and the damage that has taken place as a result CANNOT be reversed.
When, in ten years, dementia is going to increase exponentially, and the younger generations couldn't reach their God-given potential, it won't help to say "we didn't need the masks".
I know how damaging oxygen deprivation is for the brain, cardiologists know how damaging it is for the heart, pulmonologists know how damaging it is for the lungs. Oxygen deprivation damages every single organ. What kind of medicine are our doctors and medical associations representing? Who is responsible for this crime? The ones who want to enforce it? The ones who let it happen and play along, or the ones who don't prevent it?
The imperative of the hour is personal responsibility. We are responsible for what we think, not the media. We are responsible for what we do, not our superiors. We are responsible for our health, not the World Health Organisation.
---------------------------------------------------- (Quote from the Brownstone Institute, USA) "The mask is a metaphor for all the controls, restrictions, impositions, mandates, closures, and resulting wreckage of the past two years. We are our faces, to others and ourselves. Take that away and what are we? We are tools. We are pawns. We are lab rats for their experiments. Masks are dehumanizing because they are supposed to be. The mask has a very long history as a tool of subjection and enslavement. We all know this intuitively".
..................................................................................................... "We must permanently ditch all mask mandates" (https://smilefree.org/
"Healthy people should never be compelled to cover their faces in everyday public venues" (Dr Gary Sidley) " The Government requirement for healthy people to wear a face covering in a range of indoor community settings, purportedly to reduce the transmission of the SARS-COV-2 virus, has arguably been the most insidious of all the coronavirus restrictions. There is accumulating evidence face coverings may be associated with the following physical health risks: Headaches, Skin irritation/dermatitis, Respiratory illness/pneumonia – with the risk of bacterial infections increasing after only four hours of wear, Fatigue and dehydration, Reduced heart & lung efficiency, Exposure to contaminants in the textiles, Increased risk of falls in the elderly, Eye dryness/irritation.

Masks maintain elevated levels of fear – Acting as a crude, highly visible reminder that danger is all around, face coverings are fuelling widespread anxiety. Fear is underpinned by a perception of threat and being masked is a blatant indicator that we are all bio-hazards. At the start of the COVID-19 crisis, fear was strategically increased on the recommendation of the Government's behavioural scientists as a means of promoting compliance with the restrictions. The decision by public health experts to mandate masks is likely to have been influenced by the Government's behavioural scientists in their attempts to enhance the public's compliance with the range of coronavirus restrictions . We are strongly influenced by what others do, and masks enable easy identification of the rule followers and the rule breakers, thus bringing 'normative pressure' to bear on the miscreants to unthinkingly conform. (A recent book, A State of Fear by Laura Dodsworth, lends support to this idea that masks are a tool to promote compliance, a Government advisor informing her that psychologists on the behavioural science subgroup of SAGE liked them because 'they conveyed a message of solidarity').
.....................................................................................................
'Safe and Effective Medicines?'
We Should Never Forget Thalidomide
"Forget Thalidomide, Worship "Science" We have forgotten Thalidomide. We have forgotten Tuskegee. We have forgotten the Nazi doctors who carried out medical experiments which murdered many. We have apparently forgotten the many other historic tragedies with medical science (and doctors, nurses et al) at their core"
( https://alicespringstomind.wordpress.com/ )
In the late 1950s and early 1960s, the use of the "completely safe" and "non-toxic" "wonder drug' thalidomide in 46 countries by women who were pregnant or who subsequently became pregnant, resulted in the "biggest man‐made medical disaster ever," resulting in more than 10,000 children born with a range of severe deformities, as well as thousands of miscarriages.
Dr Sam Bailey reveals the inside story on one of the biggest pharmaceutical scandals in history, the children of Thalidomide, and tells us how many of these same corporations are poised to repeat the same crimes again – unless vigilant citizens demand transparency and accountability from pharmaceutical firms and the government regulators who are meant to police them.
----------------------------------------------------------
The Primodos Scandal - Denial & Cover-Up
Primodos was a supposedly 'safe' hormone-based pregnancy test drug widely used in the 1960s and 1970s. Although Paediatrician Dr Isabel Gal (Queen Mary's Hospital for Children) first raised the alarm in 1967, she had to fight an 11 year battle to get the drug removed from the market, and she was stonewalled by every institution, from the Department of Health to the Committee on Safety of Medicines In 2017, following a six year investigation, Sky News revealed how warning documents were destroyed and information was withheld. Although the drug was taken off the market in 1978, the overwhelming evidence of a link to miscarriages, babies born with shortened limbs, abnormalities in their internal organs, brain damage and heart defects. has never been formally recognised by the regulators or the manufacturer. In November, 2018, an Oxford University research team led by Professor of Evidence based medicine, Carl Heneghan, reported "a clear association for all congenital malformations".
But still the UK Regulator, the MHRA, continued to deny any link. Disgraceful.
The full Sky News report is here: https://news.sky.com/story/primodos-the-scandal-the-timeline-the-devastating-stories-11783935
.......................................................................................................................................................
Cancer-Causing Chemical ('experts' have allowed for years as 'safe')
Dec 2021 Proctor & Gamble quietly recall of more than 30 dry aerosol hair products, after benzene, a chemical linked to cancer, was detected in them. The latest recall follows similar removal of sunscreen and other spray products recently, for the same reason. But this toxicity has been known for years - why have the FDA & CDC 'consumer safety experts' remained silent?
Reader's comments on this new report (Epoch Times, Dec 22, 2021) "I'm assuming these products had the CDC and FDA stamp of approval.
How many years have these products been on the market before they made this discovery? Yet they approve all the COVID vaccines in less than a year and then expect us (no force us) to take them??? Just proves that FDA and CDC approval means absolutely NOTHING! " (linfree4719)
"Always safe to use, until they're not. Hmmm, let's see what becomes unsafe, in the eyes of Big Pharma's death jabs in 10 years once the masses have reached their 50th booster" (Anthony D)
"I once heard a CEO of a prominent US food company state 'it is not that these industries are out to kill you, it's just that they don't care if they do'." (simonmcgarrig)
................................................................................................................................
ZANTAC – YET ANOTHER BIG-PHARMA COVER-UP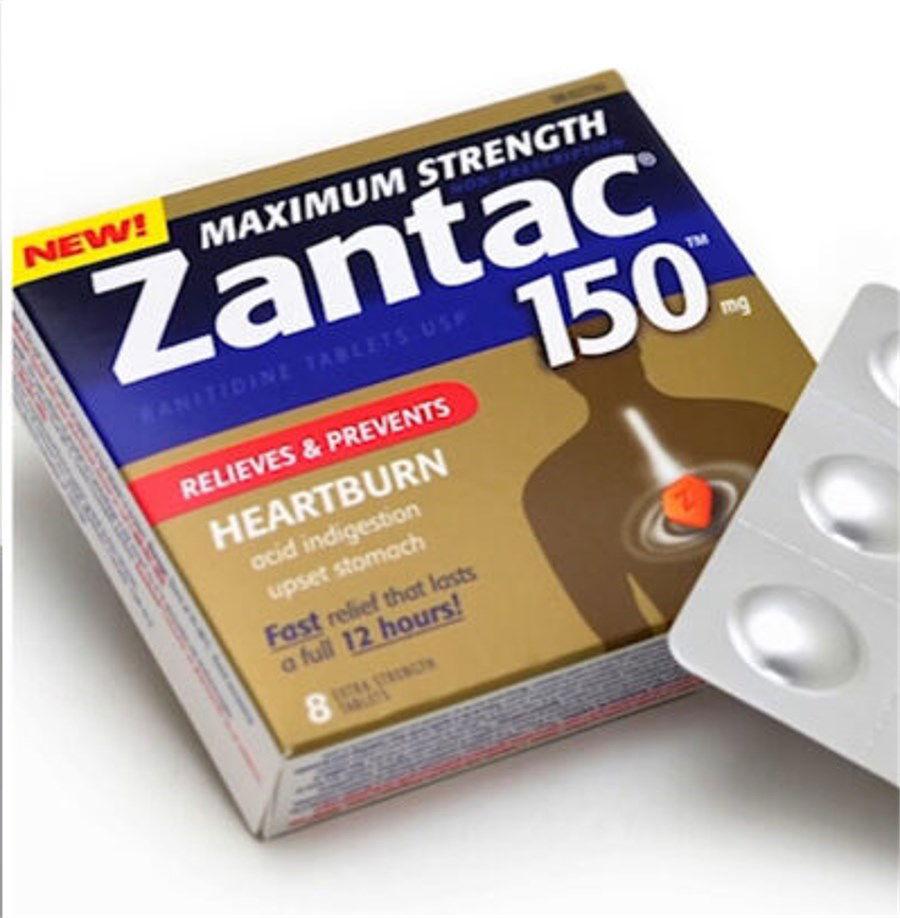 (Childrenshealthdefense.org report) Pharmaceutical companies GlaxoSmithKline, Sanofi, Pfizer and others are facing class-action lawsuits in the USA from people who developed cancer after taking this 'safe and effective' over-the-counter indigestion medication. The lawsuit alleges that the manufacturers carried on selling this product for 40 years, knowing that it contained a cancer-causing ingredient. In the words of Attorney Brent Wisner: "we have documents where they straight up say, 'this stuff causes this cancer.'" Zantac was not withdrawn from the market until 2020.